Camping holidays are among the most memorable, but they are also the ones that require the most organisation! To make the most of your holiday, you need to be well prepared: after deciding what to bring with you, the time comes to set up and furnish your pitch.
Whether you have chosen accommodation in a tent or in a camper van, your pitch will be your home during your camping holiday and it is therefore essential to optimise and arrange the space so that everything runs smoothly.
Here are some useful tips for organising your pitch efficiently and functionally!
Which pitch to choose?
To get the most out of your trip, you must first choose the right pitch. First, think about where you want to pitch your tent or camper van depending on the amenities nearby or the view of the landscape.
At Camping Village Garden Paradiso you can book pitches close to the beach or next to the swimming pools or sports fields. Our advice is to consult the campsite's online map to get an idea of where everything is!
As you will notice, the pitches are arranged according to their size: from 60 to 120 m² to suit every need.
When choosing your pitch make sure that you have as much space as you need and that you are sheltered from the sun and wind (especially if you are staying in a tent!).
How to prepare the ground
Make sure that your pitch is not sloping and free of stones or roots. Before pitching your tent or parking your motor home, move any stones and branches from the surface.
In case of rain, it is always best to arrive prepared! Use a waterproof tarpaulinas an insulating layer from the ground. This way you will avoid wetting the bottom of your tent and sleep more soundly. Also, if you are travelling in a motorhome or caravan, the tarpaulin is perfect as a surface for your awning!
Fitting out a veranda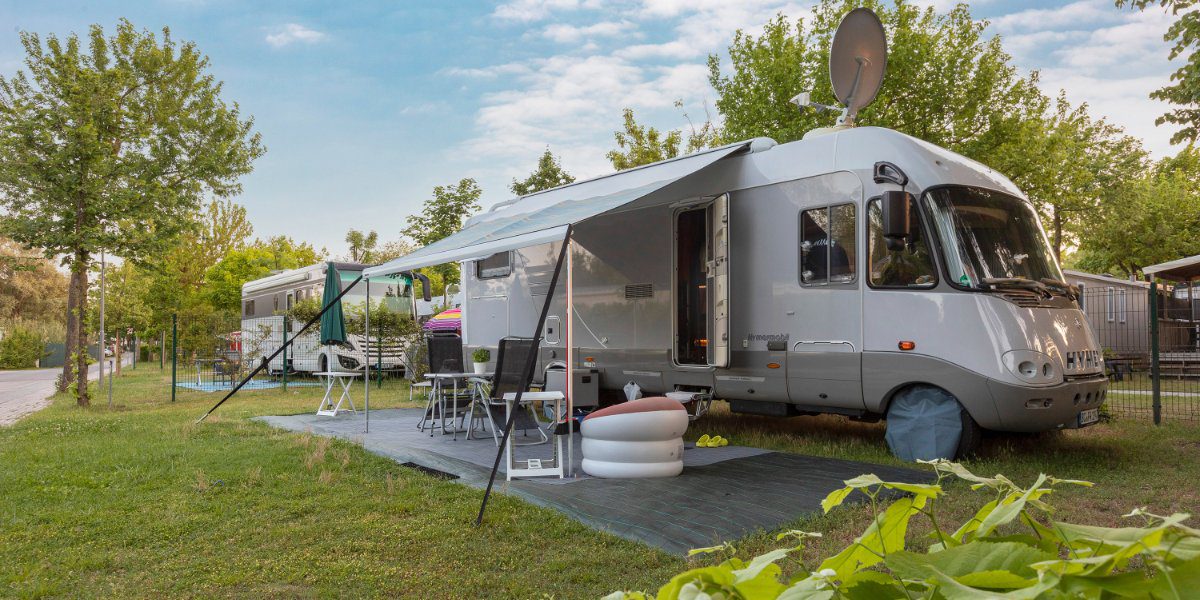 Setting up a veranda allows you to expand your living space, adding an outdoor area perfect for relaxing or dining.
Here are a few things to keep in mind:
The table should be away from the entrance to avoid attracting insects with food and to facilitate entry and exit from the motorhome or tent
Bring an extra small table to use as a cooking and utensil shelf
Prepare a relaxation area with deckchairs or inflatable armchairs
Add an outdoor light with a lamp or lantern
Obviously every family has its own needs and these are some of the tips on how best to organise the pitch. With a little practice and experience, you will create the perfect space for you!
Finally, remember to leave the pitch as you found it. Out of respect for nature and for the campers who will come after you, throw away all rubbish and empty the sewage into the appropriate spaces!